Congratulations, the kitchen remodel you have dreamed of and planned for months is finally going to start. Now what? Here are 7 tips on how to prepare for and survive your kitchen remodel while your home is in upheaval (advice from someone who has been there).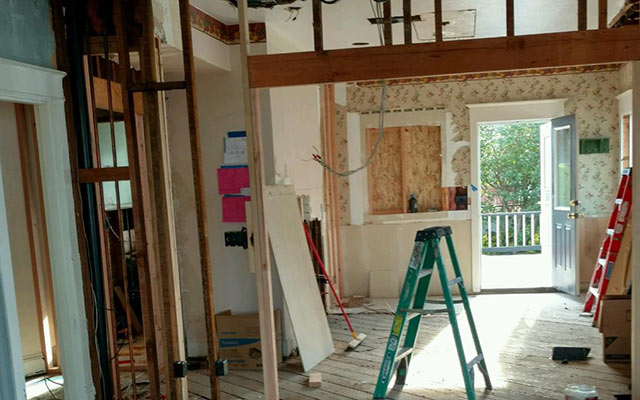 Stock the freezer

In the weeks prior to the remodel, stock your freezer with precooked meals that can be reheated easily in the microwave or crockpot.

Packing up.

Sort kitchen items into 3 categories: donate to charity, storage or temporary kitchen.
When choosing items for your temporary kitchen, be ruthless and pare down to just essentials you think you will need during remodel. For example: coffeemaker, toaster, crockpot, microwave, and just the minimum number of dishes and utensils you are willing to hand wash.
When packing up boxes for storage, label contents detail. You may you need to pull items out during remodel.

Temporary Kitchen

You will be without a kitchen for 4 weeks or more than likely up to 12 weeks. You can't eat take-out for that long, so you will need to set up a temporary kitchen. Over the years, I've seen families be very creative and have fun with this (like glamping in your own home). It could be as simple as moving your existing fridge and a table into your dining room with a few small appliances. Read this blog for more tips on how to set up your temporary kitchen.

Take full advantage of your BBQ

Almost anything you cook in your oven can also be done in a BBQ. Try frozen pizza on a baking sheet. Fry up some bacon, blackened fish or even bake a quiche in your cast iron frying pan.

Be prepared to lose your garage.

In fact, consider cleaning it out before the remodel begins. Even if you are not using it for your temporary kitchen, your garage will quickly fill up with boxes, furniture storage, new appliances (in big boxes), plywood, tile, hardwood flooring, paint cans, fixtures… etc.

Some standards can be temporarily lowered.

Accept the fact that you're meals during the remodel will very basic – granola bars for breakfast and frozen pizza for dinner. And after hand washing dishes for a few weeks, you may decide that paper plates and drinking wine out of a paper cups is just fine.

Be patient & remember the big picture.

Kitchen remodeling can be challenging. The heart of your home has been replaced by 2 x 4's, a lot of dust and construction workers. Remember that it is only temporary. Keep the inconvenience in perspective and focus on the reward – many years of enjoying your new kitchen with your friends and family.
If you have questions on how to prepare for your kitchen remodel, just ask us. We've been doing custom remodeling for decades and can provide insight on what might work best for your situation.